Apple store trademark conquers Europe?
10 Jul 2014
In case
C‑421/13
, handed down on 10 July 2014, the Court of Justice of the EU (CJEU) ruled that Apple's device trademark depicting its store design may be registered as a trademark. The case was referred to the CJEU by the Bundespatentgericht of Germany. In a nutshell, having secured a US trademark in connection with 'retail store services featuring computers, computer software, computer peripherals, mobile phones, consumer electronics and related accessories and demonstrations of products relating thereto' in Class 35 for its mark depicted below, Apple sought to extend the registration to, inter alia, Germany, via the Madrid System.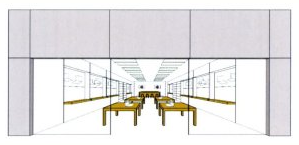 The German IP Office (DPMA) rejected the mark on lack of distinctive character and Apple appealed to the Bundespatentgericht against the DPMA's refusal decision. The Bundespatentgericht did not agree with DPMA but, nevertheless, referred the matter to the CJEU on a preliminary ruling request.
The CJEU held favorably for Apple that "the representation, by a design, of the layout of a retail store is capable of distinguishing the products or services of one undertaking from those of other undertakings, …. when the depicted layout departs significantly from the norm or customs of the economic sector concerned"
(para. 20). Of course, the distinctive or descriptive character of the mark must be examined
in concreto
against (a) the goods / services in question and, (b) the perception of the relevant public. Although the judgment possesses the dynamic of significant implications for the retail sector and particular IP rights in and to 'store experience', it is still quite early to tell.